The album, inspired by the players' mutual love of fluid Afro-beat rhythms and knotty guitar lines, sounds unsurprisingly a lot like a Radiohead remix collection. Beck "Sea Change" (2002) Musically, Beck has been all over the map in his two-decade career. Heck, his most recent official release was just a book of sheet music without any actual prerecorded songs. But "Sea Change," which came after the end of a nine-year relationship, represents a career highlight simply for being unlike anything else he recorded before or since. Beck still pillages from the cool – Serge Gainsbourg ("Paper Tiger"), Nick Drake ("Round The Bend"), Hank Williams ("Lost Cause") – but these songs have a startling, endearing honesty that makes them squarely his own. James Blake "James Blake" (2011) This young British producer makes club music for lean times. Layered with wobbly beats and looped sound effects, Blake's tracks are invariably weird but deeply soulful, particularly his slow motion cover of Feist's "Limit to Your Love." His songs also draw upon references from the world outside: Radiohead, Talk Talk, Joni Mitchell , Antony and the Johnsons, and the XX. Poolside "Pacific Standard Time" (2012) The L.A. duo of Filip Nikolic and Jeffrey Paradise (a San Francisco transplant who promotes local parties Blow Up and 1994) calls the music on its first album, "Pacific Standard Time," daytime disco. It's as good a label as any for the relaxed dance grooves and breezy choruses of songs like "Slow Down," "Do You Believe?" and the ultra-chill cover of Neil Young 's "Harvest Moon." Tricky "Maxinquaye" (1995) When it was first released, it sounded like nothing else. Now, of course, everything sounds like it. A bleak counterpoint to the hyperactive Britpop era, this Bristol native's debut album melded hip-hop and blues with the wondrous voice of the teenager Martina Topley-Bird. Tricky, possessing no musical education, made things up in the studio as he went along, delivering mind-blowing material like "Aftermath" and "Hell is Round The Corner." Years later, people are still studying it in fine detail. Haim "Days Are Gone" (2013) The Southern California sister act is all the buzz at the moment. Some critics – most vocally, Portishead's Geoff Barrow – have grumbled that their sound is derivative of Shania Twain , which, yeah, OK, fair enough.
Rdio is the best streaming music service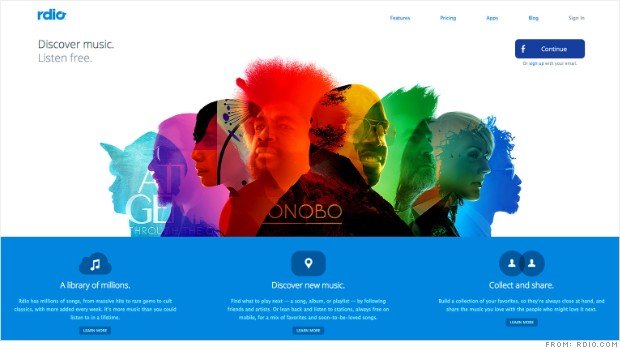 What really separates Rdio from the competition is its social backbone. You can follow friends, strangers, musicians, businesses, etc. and get a sense of what they're listening to. Rdio will also recommend songs and artists for you to check out based on your friends' interests. That may not seem like a big deal, but when you're not quite sure what to listen to, this feature is one of the best in helping you figure it out. Another standout Rdio feature is the ability to build an online library full of "your" tracks. With rival services, having your favorite music in front of you means scrolling through hundreds of playlists in the sidebar of the app. It's less than ideal. Rdio instead presents your collection as a highly visual array of album thumbnails that can be sorted in a variety of manners. But functionality aside, Rdio is just laid out and presented across all platforms (desktop, phone and Web) in manner that's visually cleaner and easier to process than its competitors. You're immediately welcomed by those friend-generated recommendations. Other details, such as being able to easily and intuitively cache an album or playlist to your phone for offline listening, also make a huge difference for average users. If you're someone who needs the ability to integrate their locally stored music with their streaming library, or if you want the service that gets all the newer, slightly more obscure music first, Rdio might not be for you.
. We now have television channels from across the globe. The Internet lets us speak to people from practically every nation. The expansion of communication has also opened the doors to the acknowledgement of new kinds of music . There are many apps such as I Heart Radio that enable people to listen to radio stations from states and countries that are thousands of miles away. Whereas the listeners that radio stations garnered were once solely decided by the location where one lived, people now have the opportunity to listen to stations from all over the world based only on the kind of music they like the most; location is no longer a hindrance. Most interesting is the capability to discover new kinds of music from such apps. Many artists from all across the globe are played on the radio stations presented on I Heart Radio that would not get air play on local airwaves in many countries. Furthermore, because the Internet is capable of picking up radio stations from anywhere in the world, such apps can be used to introduce children to traditional music from other countries. Using music to teach children about culture also gives them the opportunity to appreciate musical styles that are different from those in their hometown area. This helps them expand both their cultural education and knowledge of music.